Latest updates from the VVGA Council will be added here.
Ross McFarlane wins 12th VVGA State Title at Barwon Valley 3rd & 4th of October, 2022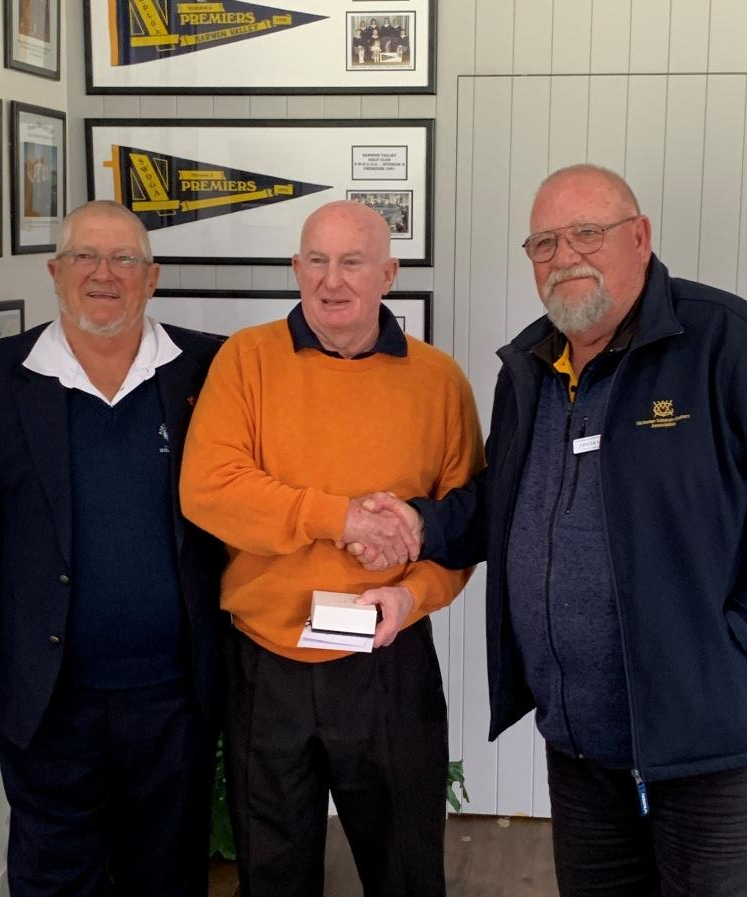 Brian Hazell (VVGA Captain), Ross McFarlane State Champion and Ern Kraulis (VVGA President)
Full results are available HERE until home page is updated, and on the Events Tab longer term.
VVGA State Champion Ross McFarlane (Bannockburn) 71-78-149
36 Hole Gross Runer Up Peter Thompson (Barwon Valley) 73-78-151
36 Hole Nett Champion Rob Law (Clifton Springs) 72-73-145 C/Back
36 Hole Nett Runner Up Allan White (Camperdown) 71-74-145
B & C Grade Stableford
B Grade 36 Hole Winner William Burgess (Castlemaine) 38-32-70 Pts
B Grade 36 Hole Runner Up Greg Horrocks (Bunninyong) 32-35-67 Pts
C Grade 36 Hole Winner Brian Jones (Traralgon) 37-36-73 Pts
C Grade 36 Hole Runner Up Geoff Haysom (Barwon Valley) 35-36-71 Pts
---
Northern District Spring Tournament 17th & 18th October 2022.
Information & Entry form can be downloaded from HERE
---
Central Victoria Goldfields Tournament 14th & 15th November 2022.
Information & Entry form can be downloaded from HERE